Skylar is a highly secured, standard-based mobile VoIP softphone that works over 3G, 4G and Wi-Fi networks. Skylar is the complete solution for trusted mobile communications, providing secure, real-time messaging, voice/conference calling, all protected by strong, authenticated, end-to-end encryption. With advanced encryption technology, phone calls and chat messages are private. Skylar does not save any information about chats, messages, calls, pictures, photos or phonebook on the server.
Combining military-grade security with the ease of use, Skylar requires no user training/configuration, ensuring fast and easy deployment, user acceptance and adoption across your customer base.
Skylar provides superb sound quality and smooth VoIP experience using it's intelligent network quality sensing capability including Adaptive Jitter Buffer, Packet Lost Concealment, Noise Suppression, Echo Cancellation, Resampling and Gain Control.
Graphical live call statistics including network details helps to provide the best and quick customer support.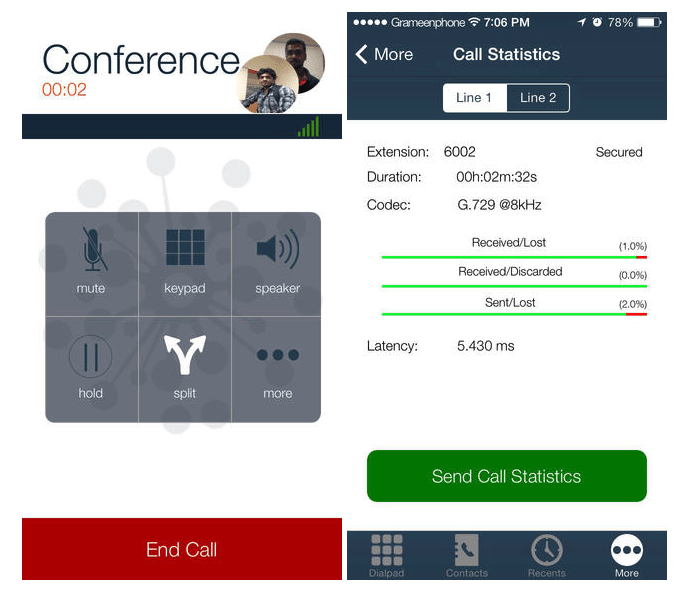 Using the device's existing contact list, Skylar facilitates easy and effective communication management with an intuitive interface.
Application contact list is synced up with native and vice versa.
Application can be used as default calling or messaging application.
Multi-tasking support for background operation, such as receive incoming calls while using other applications.
SIP account specific DTMF configurable option: ability to enter numbers and use an auto attendant via Out of band (RFC 2833/RFC 4733) and Inband.
Auto NAT type detection and NAT Traversal using STUN (RFC 5389, RFC 3489), TURN (RFC 5766) and ICE (RFC 5245, RFC 5768) .
Automatically discover the server by using DNS SRV (RFC 3263).
VPN Support.
Advanced network quality detection for VoIP calls and live graphical statistics for individual call line.
Multiple account support for up to 50 accounts on any SIP-compliant server(RFC 3261 and back compatible with RFC 2543).
Call history with a list of received, missed and dialed calls.
Speakerphone, mute and hold functions
Support for headset with microphone including Bluetooth headset.
Dial Plan support for individual SIP account.
Multiple call support – swap between two active calls, merge and split calls, transfer calls (attended and unattended), call forwarding and call recording.
All types of in-call notification tones are supported and synced with native volume settings.
Outgoing calls can be dialed using dynamic dialplan and trunk selections.
Call statistics is extracted for each individual call.
HD Wideband audio through G.722 codec.
Audio codecs include G.722 (HD), G.729, G.711A/U (PCMA/PCMU), GSM, iLBC and OPUS; configurable from settings.
Packet loss concealment and Adaptive Jitter buffer.
Automatic codec selection to ensure optimal call quality.
Native Dialer support for iOS devices (which will allow calls even with the lock screen).
Can call or text from native contact through application.
Send end-to-end encrypted text to Offline user.
Text are secure in device memory. The messages are encrypted using auto generated key and stored into device memory.
Sending group text to multiple users is supported.
Application offers to visualize online/offline status of contacts.
Application offers text status like sent, delivered or seen by the receiver.
Vibration and custom Ringtone support.
Buddy list support for texting with presence (via SIP or XMPP).
On device Encrypted text or call history storage support for enhanced security.
Application ensures user data privacy, complying with RFC 6973.
Option to enable / disable Secured Call / Messaging.
During call or message conversation, secured icon will be displayed on the screen
Finger Touch ID and Face ID based Security
No one can sabotage or use your account on Skylar, you can choose either to use a password or Touch ID to protect your account
Support for wide variety of iOS and Android devices.